The IWU - About us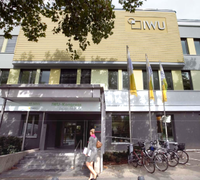 The Institut Wohnen und Umwelt GmbH (IWU) - institute for housing and environment - is a non-profit research institute of the shareholders State of Hesse and city of Darmstadt. The institute does basic research as well as applied research and has an emphasis on interdisciplinary work.
Besides the institutional funding by the shareholders the institute acquires third-party funding from municipal to European level. Four fields of research can be distinguished:
Read more about the different fields of activities.